"Air-bursting ammunition. Designate your enemy and any round you fire will explode around them, five meter kill radius."
―Spider's enforcer
Air Burst Explosive Rounds



Manufacturer

Type

Long Range Explosive charges

Size

Length

Width

Approximately 10 millimeters

Feed System

Fire Mode(s)

Rapid Fire

Cartridge

.30 caliber explosive round
7.62x39mm

Operation

Rate of Fire

Era(s)

22nd century

Affiliation

Elysium Military forces
Spider

The compressed air fueled explosive ammunition used by Max Da Costa with his modified AK-47 assault rifle, a single magazine has enough stopping power to eviscerate armed droids and blowback an electro shielded M. Kruger.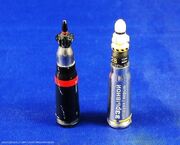 The extensive cadre known as the Air Burst rounds is a set of brightly colored assorted bullets, each containing a compacted air cartridge within each bullet. Within a set range of intended targets, these bolt shells rupture within inches before impact violently detonating in a flesh-rending, metal stripping combustion pocket which hits with incredible concussive force bifurcating intended targets. The Air Burst Ammunition is military standard weapons grade but is easy enough to find in the slums of earth's underground.
Though effective ammo for combat the bullet charges have their drawbacks. Use of said cartridge tends to jam whichever gun it is being used in leaving a crucial delay in return fire during a heated shootout. 
Appearances
Edit
In Elysium, when Da Costa is stuck in heavy combat with two Armed Droids serving as the bodyguards for one John Carlyle and against an Electromagnetically Shielded Kruger. 
Community content is available under
CC-BY-SA
unless otherwise noted.