"The Crowe anti-material rifle is designed to disable everything from humans to heavy vehicles from a short-range. A reciprocating barrel reduces the significant recoil, but the gun cannot be fired with Exosuit as a secondary auxiliary power pack is necessary. Advanced capacitor bank technology makes the Crowe portable and requires no auxiliary power. Humans equipped with Exosuit systems can operate the weapon."
―Cousar Crowe Rifle description (from Civil Cooperation Bureau Website - Weapons & Vehicles)
Cousar Crowe Rifle



Manufacturer

Type

Anti-material rifle

Size

Length

Approximately 23 inches/58.42 cm

Height

Approximately 10 inches/25.4 cm[1]

Feed System

40-round Detachable box magazine[2]

Fire Mode(s)

Cartridge

.22 caliber non-explosive round
5.25x25mm[2]

Operation

Rate of Fire

Era(s)

22nd century

Affiliation

Elysium security forces
Asgari
The Cousar Crowe Rifle is an assault rifle size anti-material rifle designed to disable everything from humans to heavy vehicles from a short-range used primarily by Elysium Homeland Defense Force(HDF) security bots.
The Cousar Crowe Rifle features a reciprocating barrel, reducing the weapon's significant recoil. The Crowe cannot be fired with Exosuit as a secondary auxiliary power pack is necessary. The Crowe uses advanced capacitor bank technology, making the Crowe portable and requires no auxiliary power.
The Cousar Crowe is available in a standard black, yellow and gold plated.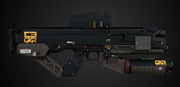 The Crowe can also be turned into a MANPAD (man portable air defense systems) by attaching the underbarrel Cousar Crowe Sky Sweeper, which adds a smart RPG surface-to-air guided missile system to the traditional rifle system.
Appearances
Edit
In Elysium, the Crowe is used by many security bots, HDF soldiers and by one of Kruger's men during the attempted takeover of Elysium.
References
Edit
↑ http://www.proparchives.com/science-fiction/science-fiction-2010s/elysium/elysium-john-carlye-william-fichtner-gold-droid-used-high-weta-smg-prop-device
Community content is available under
CC-BY-SA
unless otherwise noted.