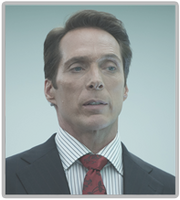 As CEO of
Armadyne
,
John Carlyle
is the rare
Elysium
citizen who is obligated to spend time on
Earth
. He commutes daily from Elysium using a personal customised shuttle made by the car company
Bugatti
.
With branch offices and facilities in London, Paris, Madrid, Rome, Moscow, Sydney, Tokyo, Seoul, and Mexico City, Armadyne is not only one of the planet's biggest and most valuable Elysium contractors, but also the company responsible for building it.
So Carlyle sits behind bulletproof glass in its Los Angeles headquarters, running the company, while below him thousands of workers toil away at building the security bots that keep them from ever reaching Elysium.[1]After Max is exposed to radiation due to unsafe working condition, he apathetically leaves Max to die. Delacourt later on makes a deal with him to create an override program to give her total control of Elysium in exchange of millions of dollars of weapon contract in the next decades. He creates the program and store it in his head by adding security feature that anyone who attempts to steal and use the data will be killed.
He was killed by stray bullets during Max's data heist as he bled out from his chest wound. Ironically, his own negligence towards Max causes his death.
He is played by William Fitchner in the movie.
References
Edit
2.
https://en.wikipedia.org/wiki/William_Fichtner
Community content is available under
CC-BY-SA
unless otherwise noted.